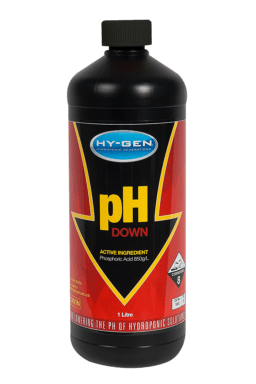 pH DOWN
SUITABLE FOR HYDROPONICS
FOOD GRADE INGREDIENTS
HIGHLY SOLUBLE
CONCENTRATED FORMULA
CHILD RESISTANT CAP FOR ADDED SAFETY
Description
HY-GEN® pH DOWN contains 85% food grade Orthophosphoric acid and will to LOWER the pH when added to your growing system. It's recommended that you prepare your nutrient solution first and allow it to equilibrate; this can take up to 60 minutes depending on the size of your tank. Always add the required amount of pH DOWN to a small separate container of water and mix well before adding to your nutrient tank.
WHEN TO USE
Use pH DOWN every time your pH is too high. Adjust the pH only after tap water or additives are added to your tank. Once adjusted mix well and allow 30-60 minutes before re-testing and adjusting.
Pack Sizes Available
250 ml, 500 ml, 1 ltr, 5 ltr
RESOURCES
HINTS & TIPS
Always pre-dilute pH UP, pH DOWN and any other product with water before adding to your tank.